Between different models and brands of mini-excavators maintaining perfect opening and closing bucket angles. The GO BIT models are classified in several standards that cover practically all models and brands in the market.
2. The alternative of working in frontal mode without loss of angle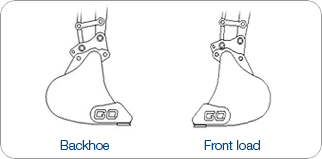 The use of the mini-excavator as a tool to replace manual work, is essential every day. The complexity of the work to be done is greater and requires greater precision from the operator. As an example, we could mention the material trenching under tubes or cable feeders, loading materials like sand from a pile avoiding to spread it, etc …
For this, the front mounting solution is important.
It is convenient to highlight that GO-BIT is the only hook that maintains perfect opening and closing angles in frontal mode.

3. The maximum simplicity
To offer operation with low maintenance and a minimum weight